How long do windows last?
A window's lifespan varies based on a few key factors. First, the materials used to construct the window can affect how long it lasts. Further, internal elements such as relative humidity inside the home, pets, and children, and external elements like temperature, rainfall, snowfall, sunlight, coastal air, and more can also affect its longevity.
How long do vinyl windows last?
We at Kirkwood Home Gallery include a 20-year warranty with our vinyl windows. However, they can last much longer with proper care and minimal exposure.
How long do wood windows last?
Aluminum-clad wood windows from Kirkwood Home Gallery have warranties lasting 10-30 years, depending on your chosen features. For instance, we warrant exterior aluminum clad finishes for 10-30 years, insulated glass for 20, and all other parts for 10. They can last a lifetime if properly maintained and minimally exposed.
What types of windows do you carry?
Kirkwood Home Gallery is a proud St. Louis distributor of superior window manufacturers. Through our vendor partnerships, we offer the following window types with numerous customization options:
Awnings
Single-hung windows
Sliding windows
Bay windows
Radius windows
Geometric windows
Direct set windows
Folding windows
What are the benefits of installing new windows?
Installing new windows offers several advantages for homeowners. New windows can boost curb appeal and drastically improve the exterior appearance of your home. Additionally, they can even increase your home's resale value. We offer numerous finishes and customization options to suit your home's style.
Newly installed windows can improve your home's energy efficiency. Kirkwood Home Gallery offers Low-Emissivity (Low-E) windows that regulate interior temperature year-round. Choosing Low-E windows also enhances your home's comfort level.
Not only do new windows offer aesthetic advantages, but they are easy to use, as well. Whatever window style you choose, letting in fresh air is simple, thanks to their simple operation. Improved functionality also keeps your family safe should you need to escape a fire or other hazard.
How much will new windows increase my home value?
Replacing windows is a great way to improve your home's appearance and value without significant construction costs. However, many factors influence how much your home value can increase with new windows:
Window material used
Where you live
Number and size of windows
Type of windows
Specialty glass
Exterior and interior finishes
Manufacturer
Market volatility
And more.
We customize your window replacement project at Kirkwood Home Gallery according to your budget and specifications. The exact amount varies by customer, but new windows generally boast at least some return on investment (ROI).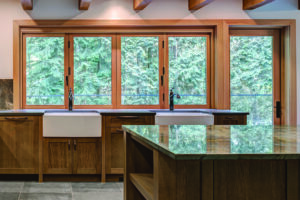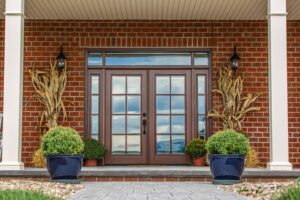 How much is a new front door?
Like window replacement projects, new front doors also vary in price. However, the vast price range allows all homeowners to choose the front door best for their budget. Your vision, dimensions, and other factors affect the cost:
Door style, such as arched, single, or double panels
Materials used
Door construction 
Exterior and interior finishes
Where you live
Manufacturer
Market volatility
Hardware
Specialty glass
Dimensions
And more.
Generally speaking, steel and fiberglass front doors are more affordable, while wrought iron is on the expensive end, and an all-wood material is in the middle. Whether you're seeking an upscale or modern simplistic front door appearance, Kirkwood Home Gallery offers the customizations and styles you want.
What are the best types of doors for front entry?
Front entry doors play a significant role in your home's curb appeal. Our vendor partners design the highest quality entrance doors for various styles and tastes. Plus, choose from a vast selection of finishes, glass, materials, shapes, and other details to create the perfect entryway.
The best types of entrance doors often contain materials like exterior aluminum cladding, all-wood, architectural steel, wrought iron, and fiberglass. Various finishes, hardware, glass options, and unique designs will set your entrance door apart.
What types of doors do you carry?
Kirkwood Home Gallery supplies numerous door types to suit your needs. We partner with premier vendors to offer the following door styles:
Sliding patio doors
Multi-slide doors
Folding doors
Fiberglass doors
Swinging patio doors
Lift and slide doors
Entrance doors
Get Started With Your Windows and Doors Project
Our newly updated and extensive showroom in Brentwood and our expert staff can help you select the right window and door products for your project. We have over 80 years of industry experience supplying, installing, and maintaining the highest quality windows and doors. When you choose Kirkwood Home Gallery, you receive a knowledgeable team that will support you in every step of the process.
Visit or contact us today to get started!