What Are Double-Hung Windows?
Also commonly referred to as double sash windows, double-hung windows contain two operable sashes that slide up and down to open and close. Since both sashes can open, double-hung windows offer excellent ventilation. Rising warm air escapes through the top sash, while cool exterior air enters your home through the bottom sash for the utmost comfort. The St. Louis double hung window installers can create a custom solution for your home.
Double-hung windows are an excellent choice for two-story homes, offering various styles, colors, shapes, and sizes. They can fit seamlessly into any style by providing a historic, classic, and timeless aesthetic. At Kirkwood Home Gallery, our team boasts over 80 years in the window and door industry, offering quality products from leading vendor partners. Schedule a consultation with our experts today to get started!
Design the Perfect Windows With Our Double Hung Window Installers in St. Louis
Our St. Louis double hung window installers understand that every customer has a unique style. That's why we offer various options to customize your double-hung windows, such as:
Aluminum-clad wood. A weather-resistant, low-maintenance, and rigid exterior material, extruded aluminum cladding safeguards the beauty of your windows. Extruded aluminum cladding combines appeal and performance with dozens of 10-year or 30-year exterior paint color options to choose from. Since the interior is real wood, you can select from multiple species, factory stains or paint finishes to complete your interior look.
All-wood. Double-hung windows made from all-wood materials provide lasting durability, architectural detail, and beauty, perfect for homeowners seeking timeless elegance and unique touch. Plus, choose from several wood species to create a distinctive look. We can also help your historic home or building maintain its character by installing all-wood windows, matching the specific proportions and detail.
Hybrid. Strength and resilience partner together to create the "hybrid" window material. Hybrid windows contain different materials between interior and exterior, like real wood on the inside and fiberglass composite on the outside. You can mix and match materials to design a window that suits your home and budget.
Vinyl. Premium vinyl material comes in several shapes, sizes, and colors, allowing you to choose a double-hung window that's high quality and high performance.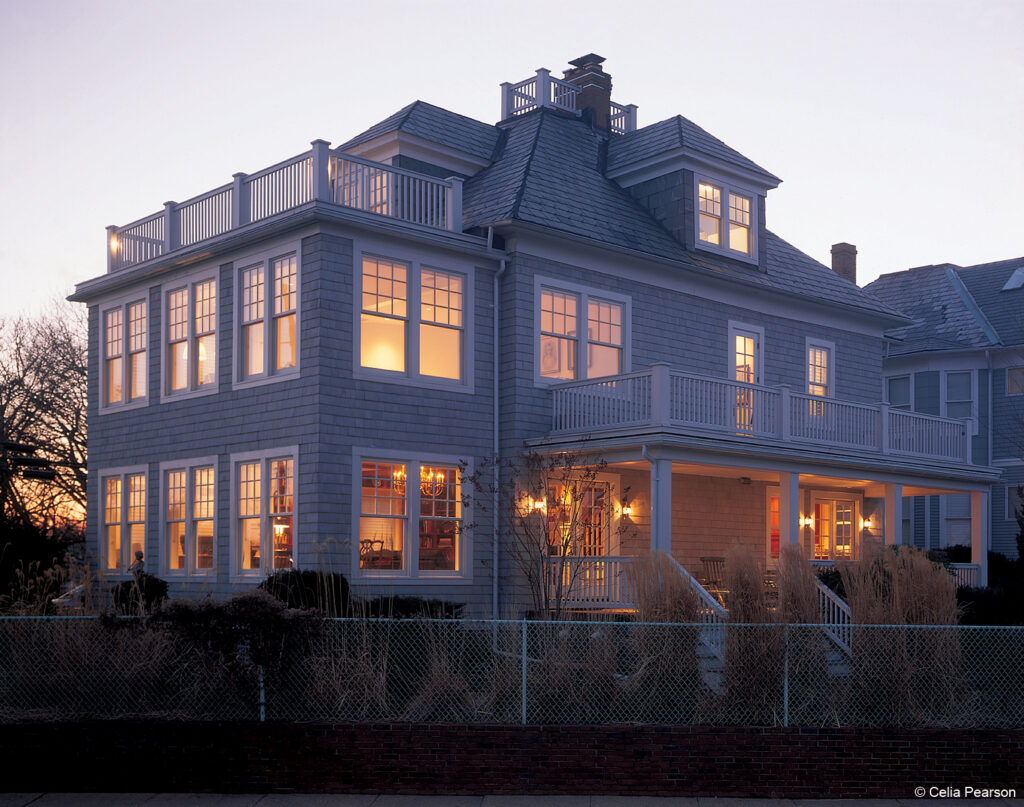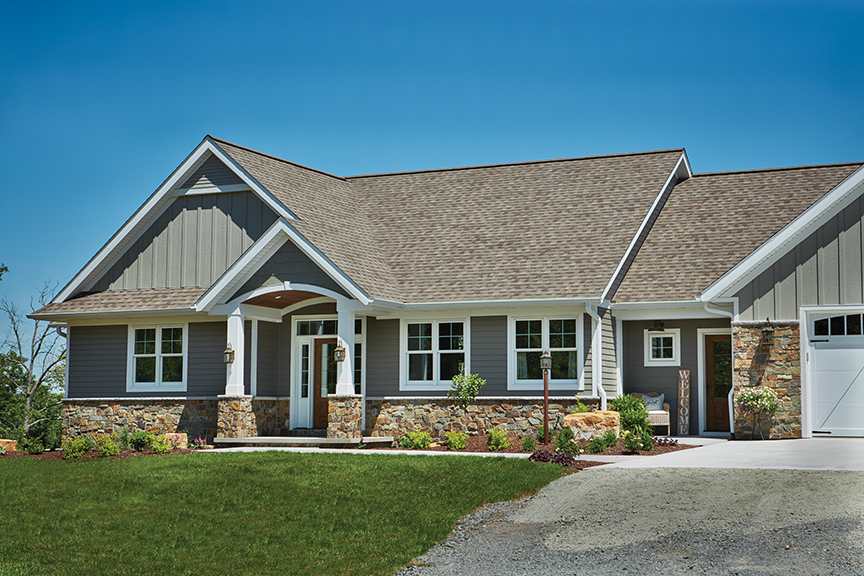 We offer numerous wood species, from pine to mahogany, and several stain and paint options, to complete your home's exterior appeal. Our double-hung windows can come in various paint colors also. We've got you covered whether you're looking for a natural or bright look.
Exterior Trim
Exterior window trim helps to define the architectural design. Kirkwood Home Gallery's double hung window installers in St. Louis can implement three main types:
Sill nosing. Three main components influence your choice of sill nosing: your exterior siding color, window architectural profile, and the installation method. Sill nosing defines the bottom of a window unit and offers greater durability than wood. Your sill nosing will match the exterior finish color.
Brickmould. Brickmould frames the external view of your double-hung windows and can be used to portray your home's period style further. Typically, the durable casing matches your exterior window material, but other colors can be applied to create a unique contrast.
Aluminum Trim Coil. Commonly used in replacement projects, aluminum trim coil serves as a customizable exterior trim solution. Bent and formed on-site, trim coil comes in dozens of colors to match your new windows or provide contrast for that extra pop.
Insect Screens
We offer different types of insect screen mesh to prevent unwanted visitors from entering your home through the windows. Double-hung windows receive exterior-mounted screens and come in varying levels of transparency: standard fiberglass, BetterView and UltraView.
Glass Types
Double-hung windows allow significant amounts of natural light into your home. Therefore, there's so much more to consider about glass than visibility – we offer energy-efficient glass options that allow the most light possible while keeping costs down.
Double-pane Low-E. Suitable for most climates, double-pane Low-E (low emissivity) glass reduces energy consumption year-round. It's designed to reflect heat inside during the winter months and block infrared heat energy outside during the summer.
Double-pane Low-E366. This upgraded coating blocks 95% of the sun's UV rays. Perfect for west-facing windows with harsh sun exposure, you can receive the next step in efficiency for a moderate additional cost.
Customize your energy-efficient glass even further with different styles and patterns. There's a pattern for you, from glue chip to horizontal reeded.
Hardware
Various hardware options control the sashes of your double-hung windows. We offer numerous styles to best suit your needs:
Sash lift handles. Lift handles swiftly move the window up and down and are located at the bottom rail of the bottom sash to ease operation. Handles can be finished with nickel, brass, matte black, and more to match your home's unique style.
Sash locks. Sash locks are placed at the check rail (where the sashes meet) of a double-hung window. They secure the sash when closed and can contain various finishes to suit your interior style.
Tilt latches. Make your cleaning easier and faster with tilt latches. They're applied where the check rail and stile (vertical edges) intersect and allow the sash to tilt indoors. We even offer windows with integrated tilt latches, which are built into the lock mechanism. With the push of a button or extra turn of the lock, your sashes tilt in for cleaning without those unsightly latches on both sides.
Window opening control devices. Perfect for families with small children and/or openings that start within 18" of the interior floor, these devices provide an extra release point to fully open your window while maintaining code-mandated emergency egress.
Crank handles. Easily accessible for people with various abilities, crank handles are placed within reach and promote independent living.
Weights, chains and pulleys. Renovating a historic home? Chains and pulleys maintain the historical appeal and allow the window unit to operate swiftly. In many historical building jobs, the existing window frame and weight assembly remains and the sashes are replaced by professionals.
Divided Lites and Glazing Beads
Add some character to your windows with custom divided lites and glazing beads. Divided lites can mount directly onto the interior and exterior of your double-hung window to create the appearance of true divided lites. We also offer grilles between the glass panes to portray the same grilled look but with easier cleaning.
Glazing beads help define your home's interior style. Choose from profiles such as beveled, ovolo, or square to assist in holding the glass units within the sashes.
Interior Options
In addition to the ease of customization, double-hung windows provide many benefits to homeowners:
Low maintenance. Durable materials, exceptional wood stain or paint finishes, and ease of cleaning means your double-hung windows will last many years.
Home ventilation. The two sashes allow you to control your home's airflow. Open both sashes to let cool air in and expel heat for maximum ventilation. For a bit of ventilation, keep one sash open.
Adaptable. Whether you choose a bright interior finish or want to install a window air conditioning unit, double-hung windows cater to your needs.
Safety. Many protective options, such as window opening control devices and locks, promote safety for your family.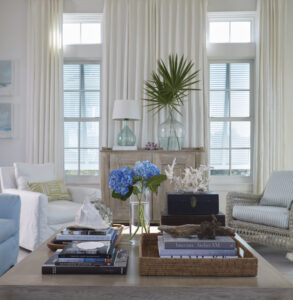 Kirkwood Home Gallery: Your St. Louis Double Hung Window Installers
The team of window experts at Kirkwood Home Gallery guides you through your project from beginning to end. Since 2005, customers have trusted us with renovations, new builds, and replacement projects, from initial selections to final installation and ongoing service. When you choose Kirkwood Home Gallery, you'll receive the highest quality products, environmentally-conscious techniques, and exceptional customer service.
We welcome you to visit our expansive showroom in Brentwood to view styles, finishes, glass types, materials, and more. Our team is here to help you answer all questions about double-hung windows. Schedule an on-site consultation with our St. Louis double hung window installers today!
Frequently Asked Questions About Double-Hung Windows
What's the difference between single- and double-hung windows?
Single-hung windows have a single sash that slides up and down within the frame. On the other hand, double-hung windows have two separate sashes that slide up and down independently, allowing for improved control over ventilation in your home.
How do you clean double-hung windows?
Most modern double-hung windows tilt in for cleaning, using separate latches or an integrated mechanism inside the lock. This design makes for a relatively simple cleaning process. Use a mild detergent with warm water and wipe them down with a soft cloth. Then, use a soft brush or vacuum attachment to remove dirt and debris from hard-to-reach areas gently.
How do double-hung windows open?
Double-hung windows open by sliding the two sashes up or down, granting you control over airflow and ventilation. Our St. Louis double-hung window installers can help you determine the best option.
Are double-hung windows energy-rated?
Double-hung windows are energy-rated and can provide increased insulation and temperature control. Two of the most common options are double-pane Low-E and double-pane Low-E366. For even greater efficiency, we offer multiple double and triple-pane options with specialized coatings, depending on the application and goals of the project.
When should I upgrade to double-hung windows?
You should upgrade to double-hung windows if you're looking for improved energy efficiency, temperature control, and boosted airflow.