Stair Planning and Design
We provide design-build services, direct from the manufacturer. No matter size nor scope, our team of professionals, craftsmen, and partner companies will creatively solve any structural or design challenges from initial design to the finished installation.
Blending form, function, engineering, and architectural nuances is what we do. All wood, metal, glass and stone can be flowed individually or jointly into a staircase. The three-dimensional curves, turns, bends and free-flowing railings and stair parts offer endless visual appeal. There's really no place else in a space where you can make a statement so dramatically. Contact us. Let's work together to design, budget, order, and complete your project.
Stair consultations by appointment only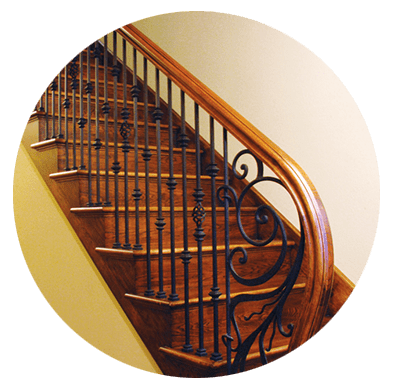 Baluster Replacement Program
Whether you're installing new stairs and stair parts, or interested in enhancing your existing stairs, new wood or iron balusters (also called spindles or stair sticks) can be transformative.
You can mix and match balusters and iron panels with endless design options, patterns and finishes to create a stunning new look for your foyer. If you'd like to experiment in our virtual design center -- by dragging and dropping a variety of baluster designs onto stairs or balconies -- visit our partner vendors or contact us directly to learn more.
Our Baluster Replacement Program is simple and speedy. In most cases, your order is ready for installation in two weeks or less. The installer completes all cutting outdoors, disposes of all old balusters and stair parts, and cleans and removes any dust or debris. In fact, the only sign that we'll have been there will be the new work we've installed.
Complement Your Stairs
Complement your stairs with Kirkwood Stair & Millwork's additional services. Stairs can make a strong statement in any space, but don't let them stand alone. Piece them together with custom windows and doors, sleek wood countertops, and striking millwork with the help of our team.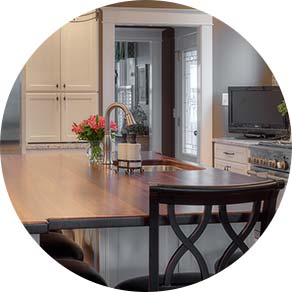 Wood Countertops
Discover the beauty and durability of natural wood countertops for your kitchen, islands, and bars. All of our wood countertops are completely hand sanded, then protected and finished with Waterlox® tung oil to create a lasting, lustrous and food-prep safe surface.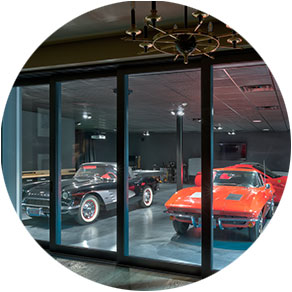 Windows & Doors
Customization is vital to making your space unique. That's why we are a proud distributor of Kolbe Windows & Doors, an industry leader in custom windows and doors designed to fit any unique vision. You bring the idea, and our knowledgeable staff will help you choose the right Kolbe products for your project.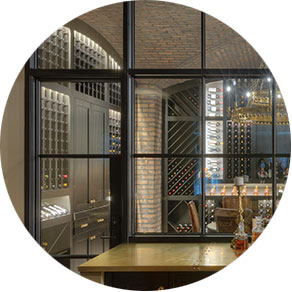 Custom Millwork
From arched casings to crown moulding, bookcases to library paneling, hand-hewn beams to mantles, we've got your custom millwork needs covered. Our collaborative approach ensures that your ideas reach their full potential.