Front Entry Doors That Suit Your Style
Entrance doors are a critical component of your home's exterior, serving as the focal point for passersby. Additionally, front doors endure rigorous use as the main entry. Therefore, it's vital that the entrance door you choose reflects the architecture of your home and remains durable.
At Kirkwood Home Gallery, we offer numerous entry door customization options for homeowners in the St. Louis area. We understand each home is unique and every customer's needs differ, so we work with leading vendor partners to provide the best selection of front door options. Schedule a consultation today to start your custom entrance door project.
Custom Front Door Options
Choose from various materials and finishes, handles and hardware, glass, and more to create a custom front door that pops. Whatever your style, we can help create a unique look that coordinates with your home's exterior.
Materials
An entrance door is only as durable as its material. Customize your front door with one of the following materials available in various thicknesses:
Extruded aluminum cladding permanently applied to wood to safeguard the beauty of your door during harsh weather
All-wood to evoke a traditional yet durable style, depending on the species and exposure level
Architectural steel that portrays simplistic modernism
Wrought iron to add character and flair to a period design
Choose from natural wood stains and durable paint colors to further personalize your entryway. From light to darks and cherry to mahogany, the interior and exterior of your entrance will make a statement.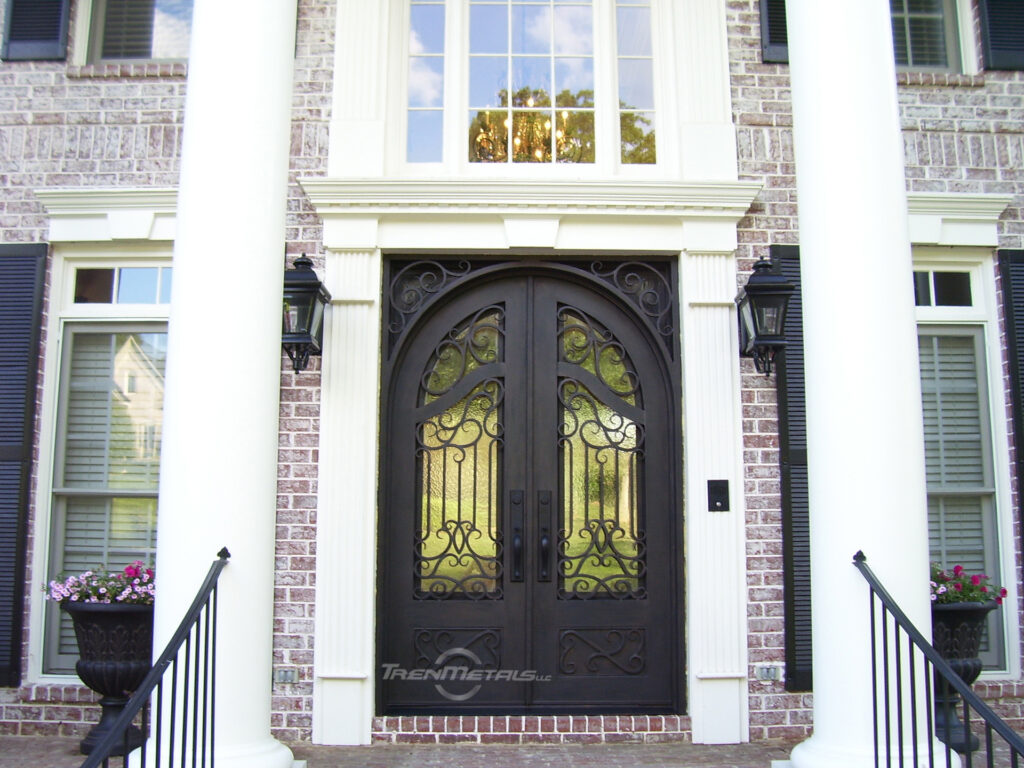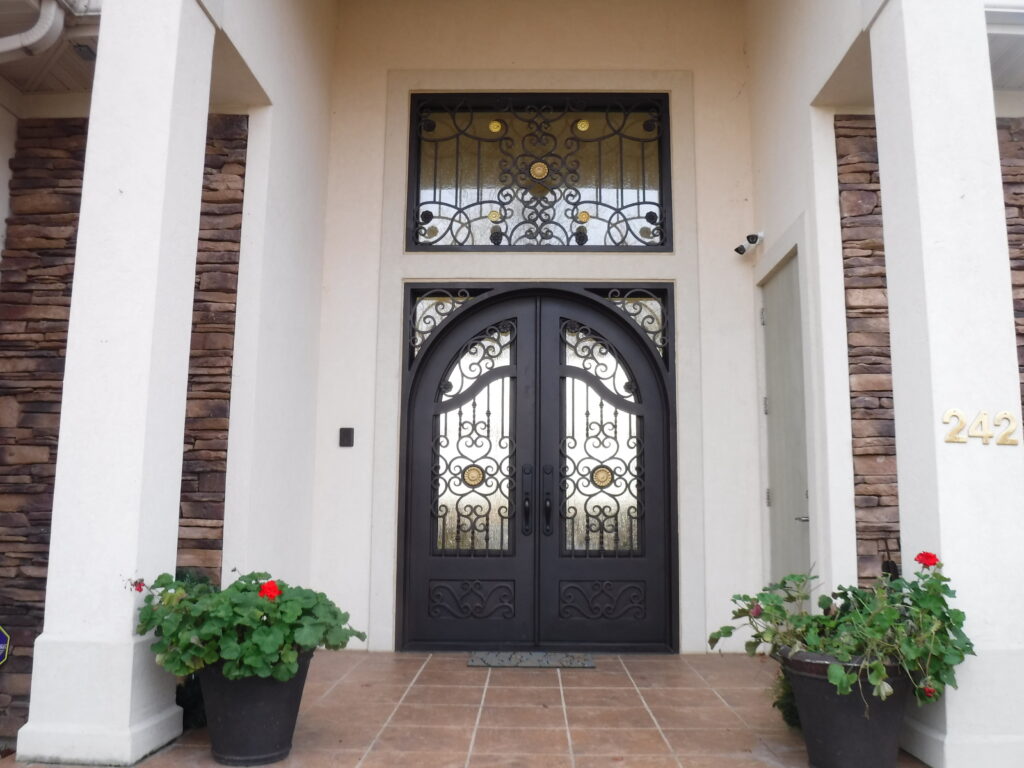 Glass
Modern entrance doors boast multiple glass panes. Although the contemporary glass door continues to gain popularity, there are numerous ways to customize it:
Decorative glass. From straight to curly, colorful to clear, a decorative glass design is beautiful and private.
Specialty glass. Select from tinted, colored, or patterned glass for shading, privacy, or visual flair.
Energy efficient glass. Low-emissivity (Low-E) glass reflects room-side warmth in the winter months and blocks the sun's infrared energy from entering during the summer, thus helping maintain temperature.
Hardware
One of the most critical aspects of your entrance door is its hardware. Choose from different styles, features, and finishes:
Hinges. Hinges, although not commonly noticed, perform essential functions. Choose from nickel, matte black, copper, or another custom finish for your inswing or outswing door. Adjustable hinges help keep your new door operating like new for years to come.
Sills. Sills are part of your door's frame structure and are situated under the jamb. They come in multiple finishes and, when required, can shed or weep water toward the exterior, preserving your flooring and trim.
Locks. Multipoint locks are commonly found on 8' or taller doors for added security and stability. Non-multipoint locks are located at the door's handle. Choose from smart locks, deadbolts, and traditional handle locks – all of these can be applied to a door with standard double boring.
Handles and knobs. Modern door handles can have a straight or curved structure in numerous finishes. The thumb latch door handle is becoming increasingly popular, thanks to its unique style. Traditional knobs offer simplicity and a timeless look.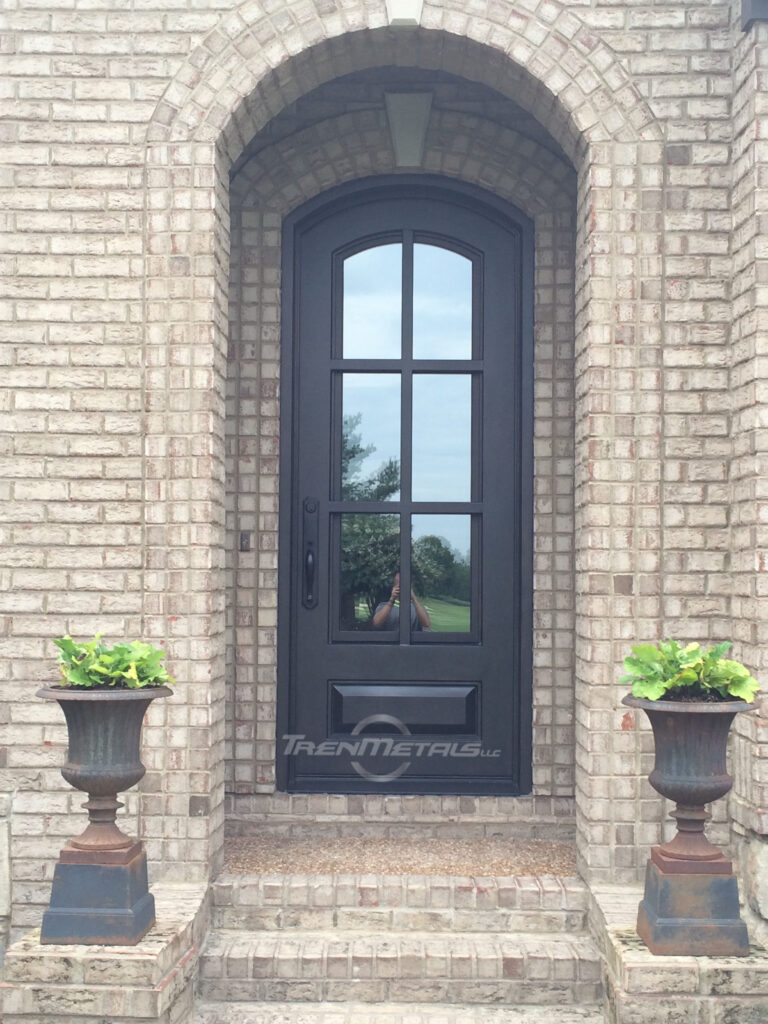 Extras
Other features can also enhance the entry door's appearance and further coordinate with other exterior aspects of your home:
Glass lites. With or without divisions, aluminum bars on the exterior or between the glass panes add contrast and can match your windows.
Glazing beads. Glazing beads help hold glass panes within the door frame, and the various profile options aid in defining interior style.
Brickmould. Brickmould is a barrier or seal between your door frame and your home's exterior. It adds strength, security, and a homely look to your entry door.
Single or double panels. Adhere to your home's original specifications or create a custom yet stately entrance using single or double panel doors.
Boost Your Curb Appeal With Residential Entry Doors
Kirkwood Home Gallery knows windows and doors, thanks to our 80 years of industry experience. We take pride in our quality products, and you can rest assured that your custom entry door project exceeds your expectations. Customers across St. Louis trust our full-service installation and support, and you can, too.
Visit our newly renovated showroom in Brentwood or contact us to schedule an on-site consultation and bring your vision to life!