Sliding patio doors open horizontally from side to side along a track. Since they don't swing open, sliding patio doors require less operating space. They're an excellent option for tight spaces or areas where furniture may be close to the door. With both traditional and modern styles available, sliding patio doors can complement any home.
Kirkwood Home Gallery is a proud distributor of sliding patio doors from top manufacturers. We're here to help you design and install a convenient yet stylish entryway between your indoor and outdoor living spaces. Visit our newly renovated showroom in Brentwood, or contact us for a consultation today!
Sliding vs. Swinging Doors
Sliding and swinging patio doors offer a functional separation between the interior and exterior of your home. Although they serve the same purpose, there are key differences between them that can assist you in your decision:
Sliding
Side-to-side operation
Occupy minimal space
Offer a contemporary style
Swinging
Inward or outward operation
Occupy greater space
Offer a traditional style
Customize Your Sliding Patio Doors
When you choose Kirkwood Home Gallery for sliding patio doors, the customization options are endless. Select material, color, glass, hardware, divided lites, and more to create the perfect passageway to your balcony, deck, or concrete patio.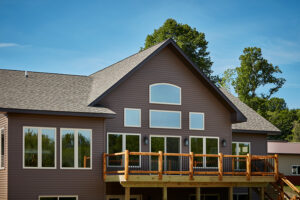 Customize your sliding doors with the following features:
Materials & Finishes
We offer several durable materials in various colors and finishes to suit your needs. Our experts can recommend product features according to your project specifications and goals:
Configuration. Available options include a sliding panel on either side of a two-wide unit, the center or side of a three-wide unit, or a four-wide unit with a double-center opening.
Material. Suit your home's style with all-wood, aluminum-clad wood, architectural steel, vinyl or fiberglass materials.
Finishes. Select a paint color or wooden stain that complements your home's interior and exterior style.
Hardware. Several hardware types are available in finishes, such as matte black, brass, satin nickel, and more, with dual-point or multi-point locking mechanisms.
Casing. Wood or aluminum casings add historical charm to your sliding patio doors. Brickmould is a popular exterior option that defines the boundary between your home and the door.
Glass Options
You can customize further by choosing specific glass and including additional window panes above or beside your sliding patio doors. Boost your doors' character and reflect your taste through the following glass options:
Glass. We offer specialty glass, such as tinted, stained, or patterned. We also provide Low-Emissivity (Low-E) energy-efficient glass designed to reflect room-side heat into the room during winter months. In summer, visible sunlight is allowed in while blocking most of the sun's infrared heat energy.
Divided lites. Give your glass panels the look of individual panes with divided lites either affixed on the interior and exterior or within the glass to maintain the energy efficiency of a single Low-E pane.
Glazing beads. The interior edge detail where the glass meets wood is called the "bead" and helps hold the pane in the door. Styles include beveled or square to boost your interior design.
Transom units. Transom units are extra window panes above your sliding glass doors. They add character and natural light and are available in several shapes and sizes, like half-circle (radius), square, or rectangular. Choose your glass and add divided lites or glazing beads to coordinate with your doors.
Sidelites. Sidelites are similar to transom units in that they offer additional light and character but reside on either side of your sliding patio doors. You can customize the long, rectangular windows with the same options: glass, divided lites, or glazing beads.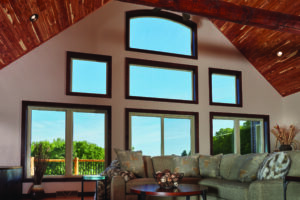 Why Choose Kirkwood Home Gallery for Your Sliding Patio Doors?
Kirkwood Home Gallery has helped customers select, design, and install windows and doors since 2005. Our experts boast 80 years of combined experience to guide you through every aspect of your project. We take pride in our extensive Brentwood showroom, which houses numerous styles, finishes, materials, and glass types so that you can view each option firsthand.
We take a personalized approach to each window and door project. First, we visit your home for an on-site consultation, where we discuss your vision and determine the best option. Then, we'll help you custom-design your products, stay in touch with our suppliers throughout production, and install your sliding patio doors.
When you choose us, the support you receive doesn't stop after installation. Our friendly sales team is here to help you post-installation should any issues arise. We aim to ensure you're fully satisfied with your project!
Create Patio Doors Unique to You
If you're seeking high-quality custom sliding patio doors, look no further than Kirkwood Home Gallery. We commit our work to exceed your expectations, from initial consultation to final installation. Visit our showroom in Brentwood, or contact us today to get started!