Swinging patio doors feature hinged panels swinging open and closed. Patio doors connect your outdoor living spaces to the rest of your home, whether opening into the house (inswing) or outside (outswing). Numerous customization options are available for every style, so you can choose the look that accentuates your home's design.
Kirkwood Home Gallery partners with leading manufacturers to provide the highest quality windows and doors. Whatever your preferences or size constraints, our team has you covered. We boast over 80 years of industry experience to help bring your vision to life. Contact us to request an estimate today!
Create Your Custom Patio Doors
Bridging the gap between indoor and outdoor living spaces has never been easier. Choose from various styles, materials, finishes, glass, and more to create a functional and appealing swinging patio door.
Materials
One of the most important features of swinging patio doors is the material. You can enhance your home's appeal with all-wood, aluminum-clad wood, fiberglass, or architectural iron doors.
All-wood brings a sense of warmth and richness to your outdoor and indoor living spaces. The natural, high-insulating material provides durability and resilience to temperature changes and harsh weather conditions. Further, its customization options are far-reaching, allowing you to create any shape, size, or design with high-performing finishes.
Aluminum-clad wood material combines the strengthening qualities of extruded aluminum with the insulating properties of natural wood. An all-wood frame receives a protective extruded aluminum shell in various finishes. Homeowners with aluminum-clad wood patio doors enjoy low maintenance and high durability.
Fiberglass is a composite material with numerous benefits. Its highly impact-resistant nature allows it to maintain shape in harsh climates that experience heavy rain, sleet, snow, and wind. Further, it resists cracks, chips, and fading. Fiberglass patio doors are perfect for those with a modern or simplistic taste.
Architectural Iron achieves that luxury feel you've been looking at on social media. With narrow, clean lines, and minimalistic design, these iron doors can complete the look of your pool house, front entry or just about any other door opening inside or out. Available in both traditional scroll and modern slim lite varieties, they use insulated Low-E glass and thermally-broken frames and slabs to provide the efficiency you need with the style you crave.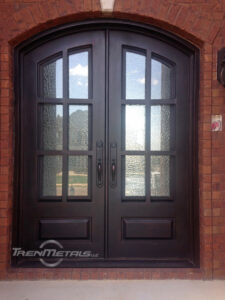 Depending on the style, homeowners can choose particular materials for interior and exterior purposes. You can combine an all-wood interior with an extruded aluminum exterior for insulation and strength.
Exterior Finishes
Accent your home's exterior with a high-performing wood stain or paint color. Our selection of low-maintenance exterior finishes is long-lasting and remains beautiful for years. Choosing the exterior finish best for your home's design and style is easier than you might think, with options varying from earthy, muted wood tones to bold colors.
Interior Finishes
Interior finishes allow you to coordinate with your indoor living space. Choose wood or wood stain to bring warmth and traditional flair to your home. Muted paint colors such as whites and grays are popular in more modern areas.
Glass
Enhance your swinging patio doors' look with performance and specialty glass options:
Low-Emissivity (Low-E) glass helps maintain your home's temperature. It works to keep warmth inside during the winter and blocks heat from entering in the summer.
Specialty glass comes in various designs and styles, from reeded to frosted. You can also choose specialty tinted glass to boost privacy and cut down on harsh sunlight through a window wall.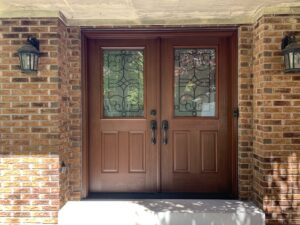 Divided Lites
Divided lites bring character to glass. Modern doors and windows create the illusion of multiple glass panes, whereas historic homes and replicas contain several individual sections. Homeowners often choose divided lites either affixed on the interior and exterior or within the glass to maintain the energy efficiency of a single Low-E pane.
Several patterns are available, from diamonds to rectangles and squares. Additionally, you can choose curved designs or create your look.
Casings
Exterior casings add architectural charm to your swinging patio door. Wood or aluminum casings can be curved, arched, or rectangular. Brickmould is a popular casing choice, adding an aesthetic boundary between your home's siding and the door itself.
Glazing Beads
The interior edge detail of a glass pane where the glazing meets wood is called the "bead." Glazing beads help hold the glass within the door frame. Glazing beads can also boost interior design in several styles, such as beveled or square.
Hardware
Several options for design, style, metal types and finishes are available to take your swinging patio doors to the next level. Choosing the right set of hardware boosts aesthetic appeal and ensures your doors function correctly. Our multi-point hardware selection includes contemporary and traditional designs with various lever styles, from curved to straight.
Whether inswing or outswing, choose from the following hinge finishes:
Brass
Satin Nickel
Antique Nickel
Oil-Rubbed Bronze
Matte Black
And more.
Transom Units
Add more natural light into your home with transom units around your swinging patio doors. The extra windows above your doors create a stately entrance and add character to your outdoor living area. Transom units come in various shapes and sizes, such as half circle (known as radius), rectangular, square, and more. Plus, choose from specialty glass, divided lites, and glazing beads to coordinate with your patio doors.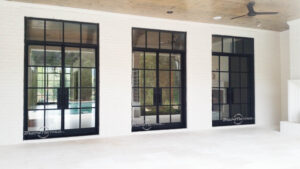 Create Your Swinging Patio Doors Today
Kirkwood Home Gallery is your full-service swinging patio doors partner. We'll assist you with choosing the right products and customizations at our updated showroom in Brentwood. Then, we can visit your home to determine the products you choose will work in the space provided. Next, we'll install your new swinging patio doors, and our service technicians can help with any issues that arise in the future.
Visit our showroom and contact us today!