Fiberglass doors are increasingly growing in popularity. Builders, house flippers, and homeowners performing renovations desire the fiberglass door's wooden appearance or painted finish without the hassle. Durability and aesthetics combine to give your entry, patio, or utility door a modern appeal that lasts.
Kirkwood Home Gallery partners with leading manufacturers to provide customers across the St. Louis area with a vast selection of customized door and window options. Our team of experts has over 80 years of combined experience in the window and door industry, so you can be confident that our products will suit your needs.
Visit our renovated showroom in Brentwood or schedule a consultation today!
What Are Fiberglass Doors?
Fiberglass doors contain three primary components: the frame (including stiles and rails), the core, and the skin. The stiles run vertically on either side of the door, while the rails provide top and bottom support. The frame itself is usually wooden or consists of durable composite material.
The core's polyurethane insulating foam helps protect your home's interior from the elements and acts as a soundproofing barrier. The door's exterior, also called the skin, is high-impact, compression-molded fiberglass that can either resemble wood or add a pop of bright color.
Benefits of Fiberglass Exterior Doors
Fiberglass doors consist of the finest materials to capture the beauty of traditional wood but with higher performance. The benefits of fiberglass address the downfalls of wood, as shown below:
Fiberglass
Resists dents and scratches
High durability
Requires minimal maintenance
Will not crack or split
Does not absorb moisture, thus eliminating the risk of rotting, warping, peeling, or bubbling
Wood
Can easily scratch
Tends to fade over time
Demands regular upkeep of refinishing every 1-2 years
May crack or split in extreme temperatures
Absorbs moisture, thus causing doors to rot and warp and the finish to peel or bubble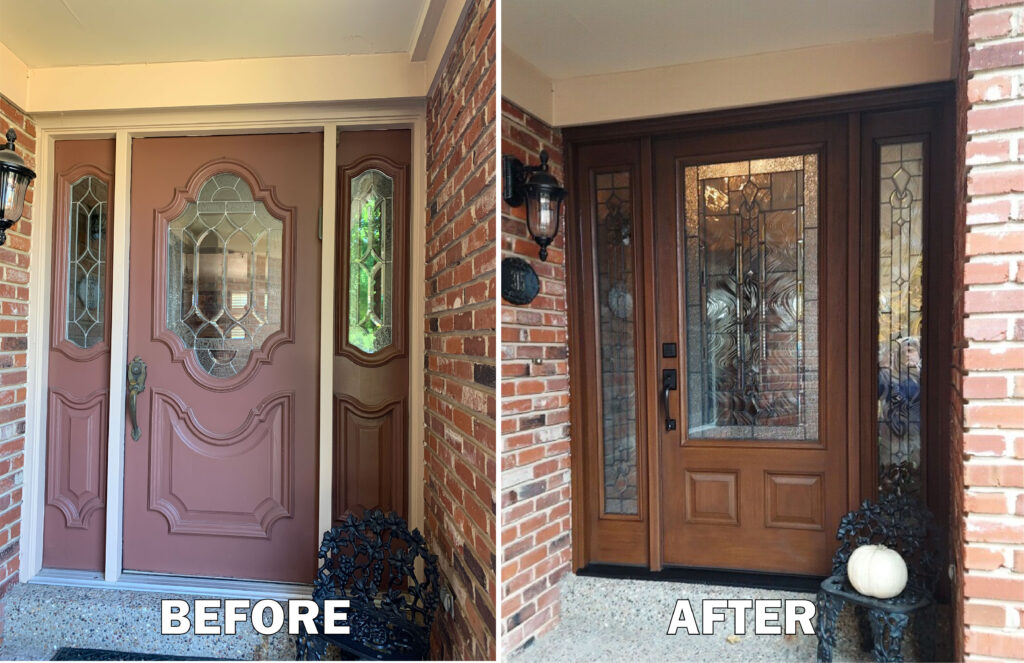 Customization Options
Several customization options are available to suit your individual taste, ranging from specialty glass to finish stains. All options can be applied to a single or double-wide unit.
Textures
Fiberglass doors offer two primary exterior textures: wood grain and smooth skin.
Wood grain. Yes, you can choose a wooden-textured door without using wood! The wood grain fiberglass offers the same nooks and crannies as actual wood but with increased performance.
Smooth skin. As the name suggests, smooth skin fiberglass doors have sleek exteriors. Their high durability can withstand numerous harsh conditions.
Panels
Panels add a bit of flair to your door. Choose from various arrangements and styles to create a look unique to your home.
Raised panels. Raised panels provide dimension to an otherwise flat door surface. They highly resemble traditional molded wood.
Flat panels. Flat panels on fiberglass doors don't have detailed molding. Instead, they typically consist of a single, smooth skin panel and boast modernism.
Glass
Many fiberglass doors include glass to allow natural light. You can customize the type of glass and choose added features to enhance its appeal further.
Decorative glass. Decorative glass is far-reaching and includes privacy patterns like frosted or reeded and designs with lead caming.
Low-E glass. Low emissivity (Low-E) glass reduces energy consumption year-round. It works to reflect heat inside during the winter months and block infrared heat energy outside during the summer.
Blinds between glass. You can enjoy the privacy and convenience of blinds without the hassle of dusting or dangling cords. Two panes of glass protect the blinds, enhancing safety and performance. Easy control and limited visibility are significant benefits, not to mention a lifetime warranty to put your mind at ease.
Divided lites. Modern doors create the illusion of multiple glass panes by placing divided lites either affixed on the interior and exterior or within the glass. Divided lites can offer a traditional, historical look, as well as a more modern, minimalist vibe.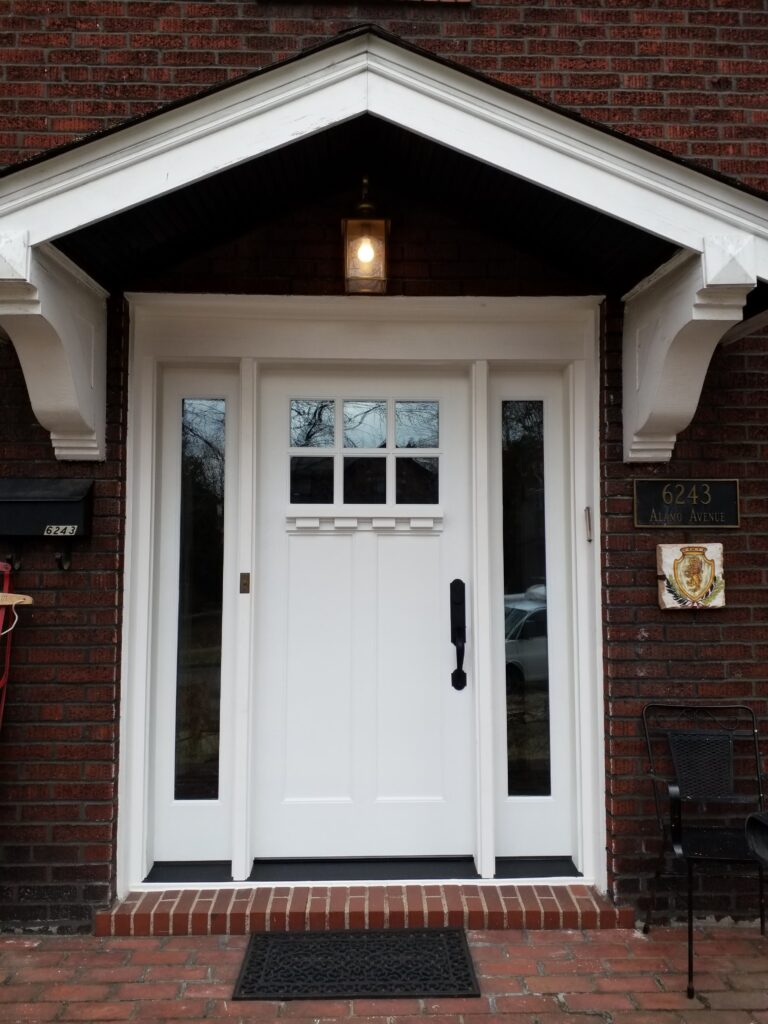 Finish Stains and Colors
Finish stains and paint colors can apply to wood grain and smooth skin textures. Perhaps you want to replicate a traditional appearance – in that case, select a factory stain color on a wood grain door.
Or, maybe, you wish to add personality to your home's exterior – choose a bright, cheery color on your smooth skin door to do so. Your options are nearly endless.
Hardware
Hinges, locks, and handles are integral parts of your fiberglass door. Whatever style you choose, select one of the following hardware finishes:
Brushed Nickel
Polished Brass
Black Painted
Oil-Rubbed Bronze
And more.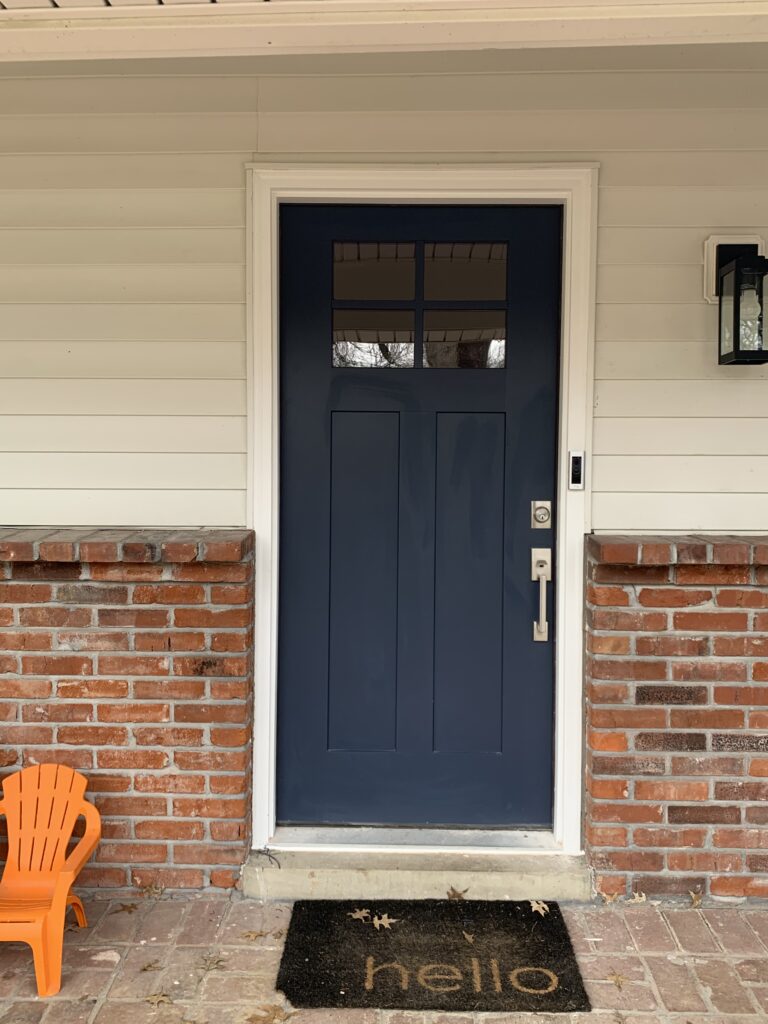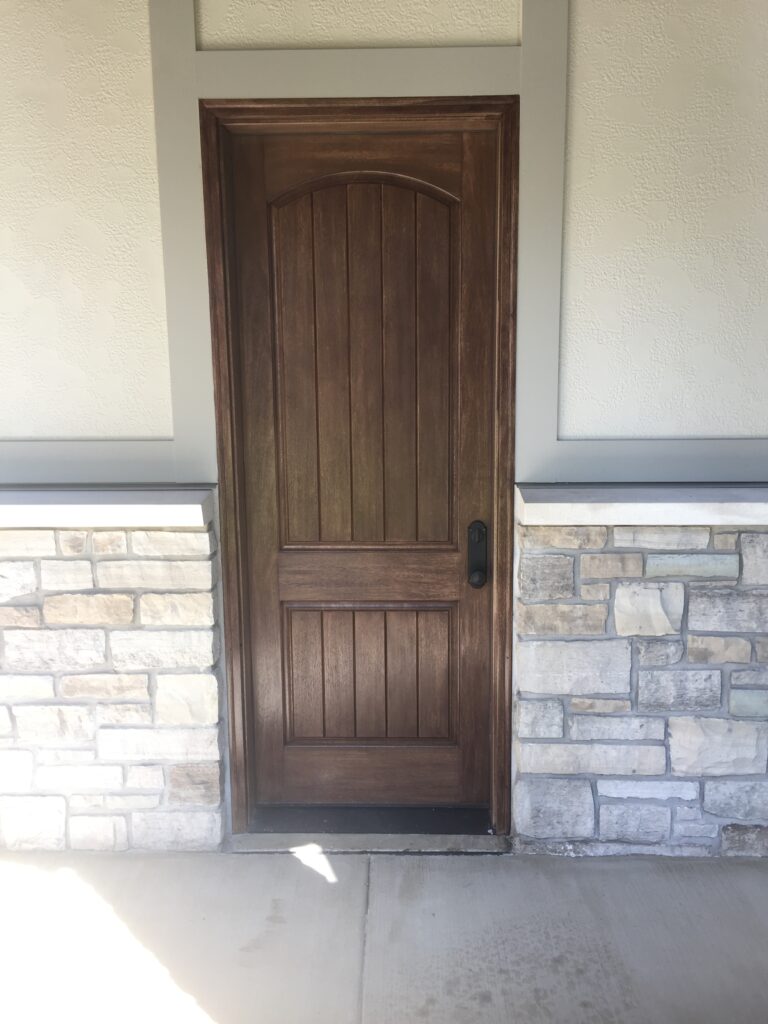 Choose Kirkwood Home Gallery for Your Fiberglass Doors
Kirkwood Home Gallery is a full-service provider of fiberglass doors. Our team is here to support you during every stage of your project. Once we help you choose the right products at our Brentwood showroom, we'll visit your home to confirm the specifications. Then, we'll install your new fiberglass doors, and our service technicians can help if you need future assistance.
Contact us today to start your project!